Zaklínač (1/13)
Dětství
Do domu rodičů malého Geralta přijíždí starý zaklínač. Chce si odvést dítě, které mu je dávno určené z moci práva překvapení. Rodiče ale nechtějí vydat svého jedináčka. Otec se neúspěšně pokouší vzepřít a nešťastná matka posílá za odjíždějícím synem kletbu, že se nikdy nestane zaklínačem. Malý Geralt se dostává do horské tvrze Kaer Morhen, kde jsou již od nepaměti malí chlapci podrobováni mutacím, magickým zkouškám a školením, aby se nakonec přeměnili v zaklínače - kteří se svými schopnostmi odlišují od obyčejných smrtelníků. Většinou pouze jeden z pěti žáků vychází ze všech zkoušek vítězně. Bude Geralt jedním z nich? To je dvojnásobně nejisté, když kaplan Vesemir rozhodne, že chlapec nepodstoupí všechny dosud používané experimenty.
Zaklínač (2/13)
Učednická léta
Geralt dospěl a současně s jinými kandidáty na zaklínače se školí v Kaer Morhen pod dozorem drsných učitelů - mistrů, kteří na něj pohlížejí s despektem a nevraživostí. Jeho filozofie boje se vzdaluje od dosavadní tradice zaklínačů: chytře využívá slabostí protivníka, zřídka přistoupí na otevřenou výměnu úderů. Školitelé ho nemají rádi a šikanují, proto musí podstoupit těžší zkoušky než druzí. Geralt inteligentně obchází nastražené pasti, což ještě více rozezlí zaklínačské mistry. Během zhoršujícího se zdravotního stavu kaplana Vesemira, získává silnější pozici v Kaer Morhen. Když na Geralta nepůsobí tresty a ponižování nepomáhají, začíná proti němu zaklínač Sorel připravovat spiknutí. Nic netušící Geralt se zamiluje do zaklínačky Adély. Ale jejich milostný vztah vlastně nedovoluje zaklínačský kodex. Přichází doba zkoušek, zakončující výuku v Kaer Morhen. Díky důmyslným intrikám Sorela musí Geralt podstoupit těžký souboj se slavným mistrem meče, Thornwaldem.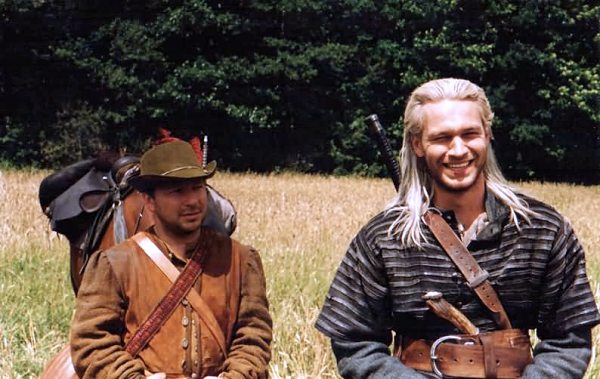 Zaklínač (3/13)
Člověk - první setkání
V lese je Geralt svědkem pokusu přepadení dívky skupinou žoldáků. Protože se postaví zlu a vstoupí do války s lidmi, musí se zpronevěřit kodexu zaklínačů. Geralt zabijí několik útočníků, ale nakonec útok málem nepřežije. Naštěstí se v pravý čas objeví jeho nedávný poručník. Zachráněná dívka je princezna Renfri, která utekla ze zámku před macechou. Chce se stát členkou lesní bandy, aby se v budoucnosti mohla pomstít druhé ženě svého otce. Udivený Geralt zjišťuje, že dívka necítí žádný vděk, je domýšlivá, falešná a zkažená. Brzy zachrání život mladičké driádě Morenn, kterou napadnul netvor. Dívka je vážně zraněna střelou dobrodruha Falvicka, jenž vede nájezdní válku proti elfům. Díky vzácným lékům se Geraltowi podaří driádu vyléčit, ale nezabrání tomu, aby se do něj nezamilovala. Rozpolcený Geralt odváží dívku do jejího rodného Brokilonu...
Zaklínač (4/13)
Drak
Léta běží a Geralt je již v bojích osvědčeným zaklínačem, tentokrát na něj čeká zabití baziliška. Z jeskyně, v níž přebývá netvor se dlouho nevrací a obyvatelé místní vesnice čekající u vchodu si nakonec myslí, že Zaklínač zemřel. Pomalu a potichu se rozebírají jeho věci mezi sebe. V tom jim brání tajemný rytíř Borch Tři Kavki i jeho tlupa složená ze dvou zerrikánských válečnic. Po zabití baziliška se Geralt s Borchem spřátelí a na další cestu se vydávají společně. Brzy se k nim přidává také bard Marigold, který vypráví rytířům o výpravě na draka. Berou v ní podíl lidé různých zájmů: od rytíře, jenž zápasí pro vznešené ideály, zchudlé šlechtice, až po dobrodruhy podivného původu, toužících položit svoji ruku na dračí poklad. Geralt, Borch a Marigold se přidávají k výpravě, ačkoliv žádný z nich nezamýšlí soupeřit s pronásledovateli draka. Uprostřed jejich řad Geralt nečekaně potkává čarodějku Jennefer, s níž ho kdysi pojil milostný vztah...
Zaklínač (5/13)
Kus ledu
Geralt a Jennefer se zastavují v městečku Aed Gynvael. Zaklínač se nechává najmout k zabití netvora zeugla, přežívajícího na městském odpadišti. Jennefer zatím až příliš mnoho času tráví s čarodějem Istreddem, jenž provozuje tajemné experimenty. Mezi uličkami Aed Gynvael se Geralt setká s Marigoldem, který jej informuje o napjaté situaci ve městě a tajně chystaném útoku na elfy. Na místním dvoře Geralt potkává bývalého zaklínače - renegáta Dermota Marangęa. Docházi mezi nimi k nepříjemné výměně názorů, která málem skončí soubojem na život a na smrt. Situaci zachraňuje starosta města. Geralt náhodou objevuje, že Istredda s Jennefer pojí dávné citové vztahy. Teď jí čaroděj dokonce nabídl manželství. Jennefer je rozpolcená a nemůže se rozhodnout, protože miluje Geralta i Istredda...
Zaklínač (6/13)
Calanthe
Zaklínač Geralt náhodně zachrání život Calanthé, královně Cintry a její dceři Pavettě. Z vděčnosti je pak pozván na královský dvůr. Na hradě všichni čekají, komu připadne ruka princezny Pavetty. Zájemců je dost. Jedním z nich je tajemný netvor, Ježek z Erlenwaldu. Poradci královny prosí Geralta, aby se za ním vypravil. Zaklínač nejdříve zjišťuje, zda právě on jen tajemné monstrum vkrádající se v noci do královských komnat, chráněné silnou magií. Přitom zjistí, že princezna Pavetta tajemnému muži náleží díky tradicemi hájenému zákonu prvního překvapení. Ježek z Erlenwaldu před léty zachránil život jejímu otci. Vděčný král slíbil svému zachránci, že mu dá to, co nalezne doma po svém návratu. Byla to právě jeho narozená dcera. Na hlučné hostině jsou přítomni kandidáti o ruku Pavetty. Když se zde objeví Ježek v brnění musí čelit zákeřné přesile. V tu chvíli se Geralt musí rozhodnout podle vlastního svědomí...
Zaklínač (7/13)
Údolí květin
Zaklínač Geralt se na své dobrodružné cestě dostal až do Novigradu. V městě plným bank, trhů, a obchodů potkává svého známého barda Marigolda, jenž právě prožívá poněkud nepříjemné probuzení ze svého posledního flirtu. Společně dostávají z potíží sympatického měňavce Dudu. Tento představitel dávné rasy má schopnosti proměňovat se v jiné postavy a přebírat jejich vlastnosti. Právě on jim svým nelehkým osudem, poskytne důvod zamyslet se nad vlastním životem. Geralt se pak s Marigoldem vydávají do lidmi téměř zapomenutých míst, do Údolí květin. Ani zde však nevládne dokonalý klid a mír: chudí rolníci musejí pravidelně odevzdávat velkou část své úrody do rukou potomka samotného "ďábla". Gerald s Margoldem se pokusí postavit na obranu těchto slabých venkovanů. Ale jejich úkol vůbec není jednoduchý. Údolí obestřené všudypřítomným tajemstvím má totiž ještě "neviditelné" obyvatele, kteří hájí své dávné tradice a zájmy...
Zaklínač (8/13)
Rozcestí
Zaklínač Geralt přijíždí do města Wyzimy, jejíž obyvatelé žijí ve neustálém strachu před netvorem, který běsní v ulicích každou noc. Král Foltest hledá odvážlivce, který by tomu učinil přítrž. Věc má ale háček: netvor přitom nesmí ztratit ani o vlásek ze své hlavy. V jeho těle je "ukryta" králova dcera. Geralt se také dozví o intrikách a spiknutí v královském paláci, jehož cílem je svrhnout nemilovaného vládce Foltesta z trůnu. Nechce se plést mezi znepřátelené strany, ale rozhodne se, že těžký souboj s netvorem podstoupí. Zápas pro něj naštěstí končí vítězstvím. Těžce raněný Geralt si odjíždí léčit své rány do svatyně Melitele a na cestě se ujímá chlapce - sirotka. Pod péčí matky představené, Nenneke se mu pomalu vrací ztracené síly a zdraví. Má při tom dostatek času zamyslet se nad posláním zaklínače. Později Geralt odjíždí do Cintry, kde po smrti princezny Pavetty a jejího muže vládne smutek. Až k smrti vyděšená královna Calanthe se obává, že zaklínač odveze dítě její dcery do Kaer Morhen. Geralt se musi rozhodnout, zda také má jednat podle nepsaného Zákona prvního překvapení a přísahy, kterou před léty složil v Cintře...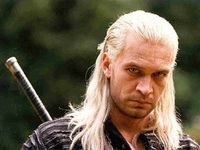 Zaklínač (9/13)
Svatyně Melitele
Zaklínač Geralt se znovu vrací do svatyně Melitele, kde jeho rány opět léčí matka představená, Nenneke. Pomáhá ji mladá věškyně Lola s malou Ciri, jenž je vnučkou královny Calanthe a posledním potomkem Starší Krve. Cintra byla dobyta vojskem vládce rozpínavého Nilfgardu a mnoho jejích obyvatel zahynulo. Někteří uprchlíci a ponásledovaní elfové hledají úkryt v svatyni Melitele v Ellanderu. Geralt se obává, že není možné uniknout osudu: cítí, že Ciri a on jsou k sobě něčím silně připoutáni. Zatím se intrikán a renegát Falwick, tajně domluvený s vládcem Nilfgardu, pokouší zmocnit Ciri. Přijíždí se skupinou bojovníků do Ellanderu, kde Nenneke zamítne jeho snahu důkladně prohlídnout všechny prostory svatyně. Její rozhodnutí naštěstí může důrazně podpořit i Geralt. Toho mladý a zbrklý rytíř Tailles dokonce vyzve na souboj. Nenneke je znepokojená hrůznými vidinami věštkyně Loly a pověří zaklínače tajným úkolem. Geralt má odjet do Brokilonu a prověřit, zda je to pro Ciri dostatečně vhodný úkryt před rytíři Bílé Růže a Falwickovými ozbrojenci. Čas však běží příliš rychle. Falwick správně tuší, že "věc", kterou hledá, nejspíše najde ve svatyni. Proto k zajetí Ciri využívá i bandu, která řádí v místních horách, a v jejímž čele stojí nelítostná Renfri...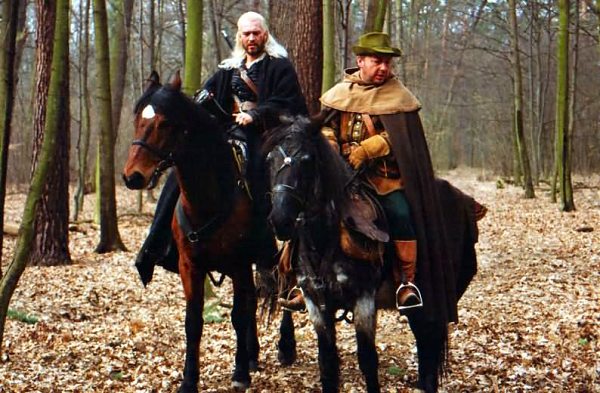 Zaklínač (10/13)
Menší zlo
Po odjezdu Geralta, přijíždí znovu do svatyně Melitele úskočný hrabě Falwick. Renegát vyhrožuje Nenneke, že zabije ukryté elfy i členky jejího řádu, pokud dobrovolně nevydá ukrytou Ciri. Své krvavé plány však hodlá uskutečnit i po splnění své podmínky. Malá Ciri chce zachránit všechny životy i svatyni, proto se dobrovolně přihlásí a souhlasí se svým odjezdem s Falwickem. Ve stejné době navštíví Geralt městečko Blaviken, kde se setká s čarodějem Stregoborem. Ten je bezpečně uzavřen ve své kamenné věži. Obává se příchodu Renfri, která si s ním má staré účty. Při setkání s Geraltem prozadí, jaký hrozný osud postihl všechno "živé" v svatyně Melitele. Bývalá princezna Renfri je podle Stregobora netvor v lidském převleku. To byl nejspíše důvod, proč měla být kdysi, zabita už jako malé děvče. A Strehgobor se měl stát vykonavatelem vražedného úkolu. Tehdy jí život jen náhodou zachránil právě Geralt, proto se příchodu Renfri neobává. V místní hospodě potkává zaklínač svého známého, básníka a barda Marigolda. Na Renfri tu také čeká banda jejích zabijáků, mezi ně patří i dobrodruh Cikáda. Tenhle výkvět všeho lotrovství nikdy neslyšel o šermíšských schopnostech Geralta a moc touží, aby s ním mohl skřížit svůj meč. V noci pak navštíví zaklínače bývalá princezna Renfri. Geralt se ji pokouší přemluvit, aby se vzdala své pomsty na Stregoborovi...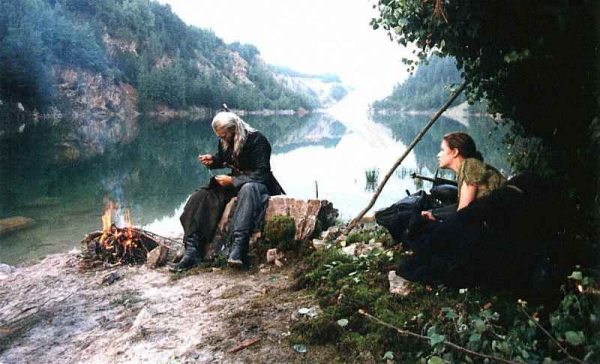 Zaklínač (11/13)
Marigold
Geralt zjišťuje, že svatyni Melitele spustošila Renfri se svojí bandou zdivočelých a nelítostných mužů. Čaroděj Stregobor mu také prozradí, že princezna Ciri stále žije. Zůstávat déle ve městě nemá smysl, proto Geralt opouští Blaviken. Znovu se potkává s básníkem Marigoldem a zamýšlí se nad cestami Dobra a Zla. Společně s Margoldem odjíždějí do Brokilonu, kde se možná ukrývá malá Ciri. Čaroděj Stregobor však neřekl Geraltovi celou pravdu: v lese Driád proto dívku nenalezne. Zato je tu mnoho uprchlých elfů. Díky nim zaklínač pochopí, že za vyvražděním kněžek ve svatyni Melitele stojí rytíř a intrikán Falwick, banda Renfri jen důkladně ukryla pravé stopy. O Ciri se přitom zajímá samotný císař Nilfgaardu, na jehož přání byla unesena. Paní lesa z Brokilonu radí zaklínači, aby se do vysoké politiky raději nepletl. Geralt s Marigoldem opouštějí elfy. Zaklínač přitom stále věří, že Ciri někde nalezne. Po cestě náhodou zaslechne důležitou rozmluvu císařových rytířů. Přitom myslí na pomstu a je pevně odhodlán, že s Falwickem skříží svůj meč. V převleku za obyvatele v Nilfgaardu se vydává do lázně, kde se za dramatických okolností setká s Cikádou. To už je Geraltovi jasné, kde Ciri má hledat.
Zaklínač (12/13)
Falwick
Geralt s velkou nadějí odjíždí k místu, kde má být ukryta princezna Ciri. Intrikán Falwick zatím objeví, že někdo má v úmyslu překazit jeho plány. V přestrojení za rytíře se Zaklínač vydává do krčmy. V zápase s početně silnějšími rytíři Bílé Růže a jejich pacholky nečekaně pobíjí všechny nepřátele. Přátelsky naladění elfové se ujímají dětí, které uvězněnil Falwick. Malou Ciri mezi nimi však nenaleznou. Zaklínač je přesvědčen, že dívce se podařilo uniknout. Uprostřed těl poražených nepřátelských rytířů čeká Geralt na příjezd Falwicka a vyslance císaře. Beze slov se dobrovolně nechává zajmout. Při vyslechu Geralt důmyslně vrhá stín podezření na Falwicka, a tak jsou intriky renegáta konečně vyzrazeny. Hrabě chtěl Ciri prodat císaři za příliš vysokou cenu. Nilfgaardskému baronovi se nelíbí jeho chování a chtivost. Proto navrhne "boží soud" - Falwick se v něm má postavit tváří v tvář svému největšímu nepříteli. Nikdo netuší, jak skončí jejich souboj, dokud zaklínač a renegát neskříží své meče... Po jeho skončení Geralt a Marigold však nadále zůstávají vězni Nilfgaarďanů. Nejdříve jsou k sobě připoutáni a později jim hrozí smrt upálením. Přesto unikají do bezpečí, když náhodou objeví tajný vchod, jenž nejspíše použila i Ciri. V podzimních chodbách je ukryt poklad i východ, střežený netvory...
Zaklínač (13/13)
Ciri
Geralt a Marigold nacházejí dočasný úkryt u hospodáře na samotě. Bard se tajně vrací do podzemních katakomb plných nebezpečí. Odnáší si odtud trochu zlata, jež vymění za peníze. Zatím na statek přicházejí elfové Galarr a Toruviel. Zaklínač chce být velkorysý a raději zapomíná na problémy minulosti. Brzy přijíždí Marigold vyparáděný jako páv a přiváží Geraltovy meče, které vykoupil na tržišti. Společně nalézají způsob, jak pomoci zbědovaným a vyhladovělým elfům. Vede je opět k pokladu ukrytému v podzemí. Než si jej odnesou, musí zaklínač bojovat s neznámými okřídlenými netvory. Cesty obou přátel se pak rozcházejí. Geralt putuje od města k městu, hledá Ciri, ale také vlastní smysl života. Při pátrání v ruinách zámku zachrání život kupci a nepsaným zákonem zaklínačů si jej zavazuje. Yurga slíbí, že za svoji záchranu zaplatí tím, co "nalezne" po návratu ve svém domě. Geralta, jenž byl těžce zraněn při zápase s netvory, si odváží na voze. Na cestě potká léčitelku Visennu, která nemocnému věnuje nečekanou pozornost, když léčí jeho rány. Geralt potom odjíždí pro přislíbenou "věc" do kupcova domu. Vedle dvou synů tam na Yurgu čeká také neznámá dívka. Dávné předpovědi se konečně naplňují...